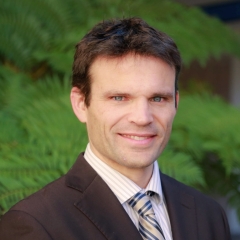 Honors:
2013  Camille Dreyfus Teacher-Scholar Award
2009  NSF CAREER Award
Research Description:
The kinetics of nucleation, electron transfer, and catalytic reactions depend on the properties of short-lived and infrequently-visited transition states that usually cannot be observed in experiments. We gain insight into the properties of transition states by using special "rare events" methods from molecular simulation and quantum chemistry. Our applications focus on the kinetics of crystal nucleation and growth, on catalysis by amorphous materials, and on reactions in polar solvents and other complex environments. In each of these areas, our group develops state-of-the-art simulation techniques to overcome limitations of present-day simulation techniques. We specialize in stochastic models that link molecular-scale dynamics and properties to phenomena at long time scales and continuum length scales.
Areas of interest:
Solute precipitate nucleation and polymorph selection
Single atom catalysts on amorphous supports
Simulation methods for mechanistic hypothesis testing
Education:
BS: Chemical Engineering, University of Missouri - Columbia (1999)
BS: Mathematics, University of Missouri - Columbia (1999)
PhD: Chemical Engineering, University of California - Berkeley (2004)