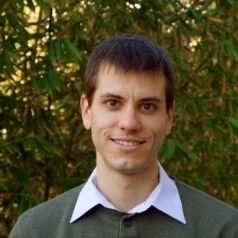 Date:
Monday, July 2, 2018 - 5:30pm
Abstract:
Polymers, known colloquially as plastics, abound in the world around us due to a host of useful properties that derive from their structure across molecular to macroscopic length scales. In this talk, we will discuss a fascinating subset of these materials known as "block copolymers," which naturally self-assemble into intricate, nanometer-sized patterns with long-range periodic order. Through the design and synthesis of new block copolymers using simple sugar building blocks, we have uncovered a variety of unique structures that spontaneously form upon heating. This talk will peer into the natural universe through the lens of chemistry and materials science.
Speaker Bio:
Christopher M. Bates Assistant Professor, Materials and Chemical Engineering Departments University of California, Santa Barbara
Christopher M. Bates earned a B.S. degree in Chemistry at the University of Wisconsin–Madison in 2007 and received a Ph.D. from The University of Texas at Austin in 2013 under the guidance of C. Grant Willson. After a postdoc with Robert H. Grubbs at the California Institute of Technology, Christopher moved to the University of California, Santa Barbara in 2016 as an Assistant Professor in the Materials and Chemical Engineering Departments.