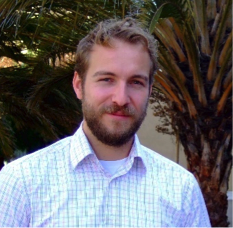 Date:
Friday, June 3, 2016 - 4:00pm
Speaker:
Robert Francke - Rostock University
Abstract:
Two years have passed since Robert Francke left UCSB, after learning the electrosynthesis trade during a postdoctoral stay in Dan Little's group. Since then, Robert has not remained idle: After adjusting to the rough climate at the Baltic coast in Germany, he started forming a research group at Rostock University. Staying true to the discipline of electrosynthesis, he is developing new mediators for indirect processes, while simultaneously addressing the long-time ignored waste issue associated with the use of supporting electrolyte. In this seminar, he will show us his progress on redox-active polyelectrolytes, some hypervalent iodine electrochemistry and his approach to the electrocatalytic reduction of CO2. 
Bio:
Robert Francke received his Diploma (equivalent to a MS degree) in Chemistry from Bonn University (Germany) in 2008 while studying under the direction of Professor S.R. Waldvogel. He moved with Professor Waldvogel to the University of Mainz (Germany) where he completed his PhD research on fluorinated electrolytes for electrochemical energy storage devices in 2012. With financial support by the Alexander von Humboldt Foundation (Feodor Lynen fellowship) he joined the group of Professor R.D. Little at the University of California, Santa Barbara, as a postdoctoral researcher. In 2014 he moved to Rostock University (Germany) as a "Habilitand" (equivalent to Assistant Professor). He has been a Liebig Fellow since 2015.