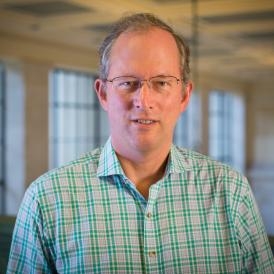 Date:
Thursday, May 16, 2019 - 4:00pm
ABSTRACT: 
Despite broad efforts, delivery of immune agonistic payloads via systemic administration is plagued by poor therapeutic indices, due to extensive offtarget exposure. We are examining the fundamental micropharmacokinetic issues involved in intratumoral administration and find that bispecific constructs that are retained in particular subdomains of the tumor, as defined by extracellular matrix composition, can exert profound therapeutic effects while largely sparing from systemic exposure or toxicity.
BIO:
K. Dane Wittrup is the Carbon P. Dubbs Professor of Chemical Engineering and Biological Engineering at the Massachusetts Institute of Technology, and the Associate Director of the Koch Institute for Integrative Cancer Research. From 1989-1999 he was Assistant Professor, Associate Professor, and then J. W. Westwater Professor of Chemical Engineering, Bioengineering, and Biophysics at the University of Illinois in Champaign/Urbana.
Prof. Wittrup received a B.S. in Chemical Engineering Summa cum Laude in 1984 from the University of New Mexico, and a Ph.D. in Chemical Engineering from the California Institute of Technology in 1988 under the thesis direction of Prof. James Bailey. Following a year of postdoctoral research at Amgen (Thousand Oaks, CA), Dr. Wittrup joined the faculty at the University of Illinois.
Wittrup's research program is focused on protein engineering of biopharmaceutical proteins by directed evolution. Areas of interest include: pretargeted radioimmunotherapy; biological response modification of EGFR; and immunotherapy of cancer via engineered cytokines and vaccines.
Prof. Wittrup has received the following awards and honors recognizing his scholarship: the A. McLaren White Award, for First Prize in the National American Institute of Chemical Engineers Student Design Contest (1984); the Presidential Young Investigator Award of the National Science Foundation (1990-1995); the Allan P. Colburn Award of the American Institute of Chemical Engineers, for excellence in publications for an individual under the age of 35 (1998); the University of New Mexico College of Engineering Distinguished Young Alumnus Award (2000); the Dow Chemical Company Teaching Award(1989); the UIUC School of Chemical Sciences Award for Excellence in Teaching (1993); the UIUC College of Engineering Anderson Award for Undergraduate Advising (1991, 1994); the J.R. Mares Professorship (1999-2007); the C.P. Dubbs Professorship (2007-); induction as a Fellow of the American Institute of Medical and Biological Engineers (1999); induction as Fellow, American Association for the Advancement of Science (2011); and Member, National Academy of Engineering (2012).
Prof. Wittrup has mentored the following Ph.D. students and postdoctoral fellows who are now faculty members: Jennifer Cochran (Bioengineering, Stanford University); Ben Hackel (Chemical Engineering, University of Minnesota); Anne Robinson (Chemical Engineering, Tulane University); David Colby (Chemical Engineering, University of Delaware); Eric Boder (Chemical Engineering, University of Tennessee); Eric Shusta (Chemical Engineering, University of Wisconsin, Madison); Jennifer van Antwerp (Chemical Engineering, Calvin College); Balaji Rao (Chemical Engineering, North Carolina State University); Yong-Sung Kim (Biotechnology, Ajou University, Korea); Mark Olsen (Biochemistry, Texas A&M, Amarillo).
In 2007, Prof. Wittrup co-founded Adimab, Inc. with Tillman Gerngross of Dartmouth University, and serves as CSO. In 2009, he co-founded Eleven Biotherapeutics, and serves on the Scientific Advisory Board.