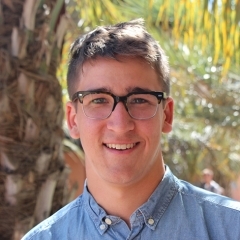 Date:
Friday, June 17, 2022 - 11:00am
Location:
Elings Hall 1601 or Zoom Link: https://ucsb.zoom.us/j/83532620123?pwd=dHh4T0E5Y0N2THBDSnpUamFlZGtWdz09 Passcode: Zwitterion
Title:
Mechanistic Studies of Ion Transport in Organic Solid Electrolytes
Abstract:
Growing interest in solid electrolytes boasting fast ion transport and simultaneous mechanical robustness has inspired significant research efforts, yet the coupling between momentum and ion transport in molecularly-disordered systems has hindered the development of high-performing solid electrolytes. This dissertation characterizes the limitations set by this restrictive coupling and seeks to overcome these limitations through the manipulation of the molecular-scale ordering of the electrolyte. I begin this work by establishing the relationship between segmental and solvation-site dynamics for a well-defined amorphous metal-ligand polymer, revealing ion transport rates to be universally limited by the solvation dynamics of the amorphous electrolyte. I leverage these insights by designing structured polymeric zwitterionic electrolytes capable of decoupling polymer and ion dynamics. These materials display significant improvements over electrolytes previously measured in the field in terms of their simultaneous conductivity and selectivity. Finally, I build upon these efforts by probing design rules for zwitterionic systems, elucidating ion design rules that largely match trends observed in ionic liquids and phase behavior akin to eutectic alloys.