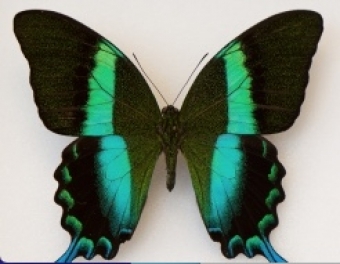 Wednesday, October 7, 2020
George Degen, a chemical engineering PhD student, has launched a blog series on the Santa Barbara Museum of Natural History's website. In the post, titled "Bio-inspired Materials: Structural Color in Nature,"he explores the science behind natural materials and how researchers use nature's tricks to design new bio-inspired materials. To read the blog post, click here. 
Degen first presented his research to the Santa Barbara Museum of Natural History in March 2020. His talk, titled"Sticky When Wet — Underwater Superglue from Marine Mussels,"was part of a community event, hosted by the museum, called Science Pub. Degen's research focuses on understanding marine mussel adhesion to guide the design of improved wet adhesives for biomedical applications. His advisors at UCSB include the late Jacob Israelchvili and his current co-advisors, professors Joan-Emma Shea and Angela Pitenis.
While at UCSB, Degen has received multiple prestigious fellowships that include the University's President's Dissertation Year Fellowship, the Chemical Engineering Department's Schlinger Fellowship, CSP Technologies Teacher-Scholar Fellowship, and the National Science Foundation's Graduate Research Fellowship.