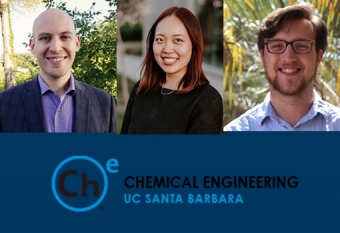 Every spring, special recognition is bestowed upon one graduating senior, one faculty member, and one teaching assistant from each undergraduate program. This year, the top prizes when to 
Charlotte Dai
,
Joe Chada
, and 
Koty McAllister

.
Dai received the 2020 Outstanding Senior Award for the Chemical Engineering Department. The College of Engineering presents the honor to the graduating senior with the highest cumulative grade point average in each department. Dai earned a bachelor's degree in chemical engineering, minored in Japanese, and had a 3.93 cumulative GPA.
"During my sophomore and junior years, I always stared at the plaque for outstanding senior award on the third floor of Engineering II. I wished that my name would be on it when I graduated," said Dai, who graduates with High Honors and among the 8.5 percent of her class. "This really is a dream come true for me, because I believe that hard work and curiosity are more important than just being smart."
Dai will head to the Massachusetts Institute of Technology (MIT) in the fall to begin working toward a PhD in chemical engineering with a focus on soft material and polymer research. She feels prepared for what lies ahead because of the opportunities afforded to her at UCSB, such as taking graduate-level courses, completing on-campus research, and developing public- speaking skills. 
The senior class in the department selected Chada the recipient of the 2020 Outstanding Chemical Engineering Faculty Award. Chada joined UCSB's Chemical Engineering Department in fall 2018 as the department's initial tenure-track teaching professor. He is a first-time winner of the Outstanding Chemical Engineering Faculty Award.  
"It's quite the honor," said Chada. "As an instructor, the best part of the job is seeing students develop into talented problem solvers.  I think the challenge, from a teaching perspective, is to develop courses that are both challenging and engaging.  It's always a rewarding feeling to know that our students appreciate the effort that goes into that development and that they enjoyed their experience."
Chada's primary focus is to design and construct experiments for students that reflect the latest in the chemical engineering field. The goal behind the experiments, which are conducted in the Rinker Undergrad Laboratory, are to reinforce fundamental chemical engineering principles, expose students to industrially relevant situations, provide hands-on lab training on modern equipment, and enhance opportunities for students to succeed during and after their time at UCSB.
"I do my best to give my students the experience I had as an undergraduate. I was fortunate to have professors who put a tremendous emphasis on teaching and learning," said Chada. "Every student has a unique undergraduate experience when it comes to their desires, motivation, and external commitments. It's important for me to give opportunities for every student to get what they want out of their time in one of my courses."
For the second year in a row, graduating seniors selected Koty McAllister the Outstanding Teaching Assistant (TA) Award in the Chemical Engineering Department. He says it is nice to know students enjoy having him as a TA as much as he enjoys being one. 
"It's a tremendous honor to receive the award," said McAllister. "I've truly enjoyed my experience as a TA at UCSB and grown very interested in a career in academia. So, receiving this award, especially for the second year in a row, is extremely encouraging."
McAllister, who received his bachelor's degree in chemical engineering from the University of Delaware, infused new material into the process dynamics and controls course for undergraduate chemical engineers. He worked with faculty and staff to add a new simulation project and hands-on lab component. While working with undergraduates, McAllister said he always tries to show passion for the course material and establish himself as more than just a grader. 
"I believe that conveying enthusiasm and offering lots of feedback on assignments help set a tone that emphasizes learning and not evaluation. I also feel that students are much more likely to approach me with questions and concerns if they believe I am legitimately interested in the material and in them," he added. 
Advised by Professor 
James B. Rawlings
, McAllister's research focuses on optimal closed-loop production scheduling. The goal is to better understand and improve scheduling algorithms that adapt, in real time, to changing operation conditions, demand, and economics. To achieve this goal, they look at the production scheduling problem as a process-control problem in order to achieve optimal production levels. 
When asked about leaving a special message for the Class of 2020, McAllister reminded graduates to focus on the positive. 
"You've spent the past four or so years being taught to solve complex, open-ended problems by some of the best professors in the world," he said. "Frankly, there are few people in the world more capable of handling, and in many cases, helping to end this crisis or any others than UCSB's graduating class of 2020."