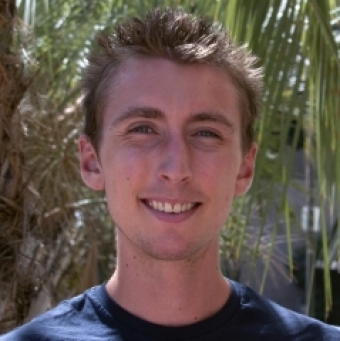 Department of Chemical Engineering Graduate student George Degen, Israelachvili and Shea Labs, was the Grand Prize winner of the 7th Annual UC Santa Barbara Grand Slam Finals Competition, held April 19th at the Corwin Pavilion. 
A large group of UCSB staff, faculty, students, and community members attended the award-winning campus-wide competition for the best three-minute talk by nine graduate student finalists. Presenters were asked to communicate the central points of a project in a clear, direct, and interesting manner for a diverse audience. The event was also livestreamed on Facebook. 
"Fantastic job, George – an incredible honor that is no doubt well deserved!," said Professor M. Scott Shell. 
The panel of judges for this year's finals includes UCSB Executive Vice Chancellor David Marshall, Vice Chancellor for Student Affairs Margaret Klawunn, UCSB Librarian Kristin Antelman, and Vice Chancellor for Research Joe Incandela.
Graduate students from across disciplines competed in the preliminary rounds last week with prizes awarded at each stage of advancement. Over $15,000 in cash and prizes were provided by corporate sponsors, including SAGE, QAD Inc., Yardi Systems Inc, Corning, HRL Laboratories, LLC.
Degen received a Grand Prize of $5,000 and will now represent UCSB and Chemical Engineering at the UC-wide Grad Slam competition on May 10, 2019, hosted by UC President Janet Napolitano at the LinkedIn headquarters in downtown San Francisco. See the UC-wide Grad Slam competition livestream at on May 10th .
  
For more information about the UCSB Grad Slam competitors and their talks, visit the UCSB Graduate Division Facebook page. 
–Melissa Walker is the Communications Coordinator for the Department of Chemical Engineering.