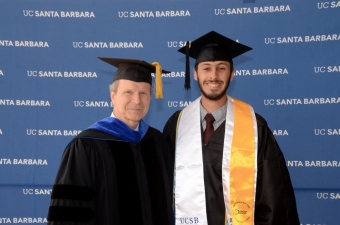 The Tirrell Award for Distinction in Undergraduate Research has been awarded by the College of Engineering to Chemical Engineering senior Alexander Khechfe, in recognition of the excellence and promise he has shown in research pursuits. The award was presented at the College of Engineering commencement ceremony on June 17, 2018. College of Engineering Dean and Richard A. Auhll Professor, Rod C. Alferness, was in attendance during the ceremony (pictured on left with Alexander Khechfe).
"I hope that the Tirrell Award will further show my abilities as a researcher when I attend graduate school in the fall," Khechfe said. "Receiving this honor from our department, which is already known for excellent undergraduate research, will mean a lot to potential advisers."
Khechfe will be attending MIT in the fall to pursue a PhD in chemical engineering, where he plans to, "continue working on problems that involve clean fuel generation or energy conversion."
His main research focus is on designing carbon-free energy technologies, generating cheap, CO2-free fuels using principles from catalysis, reaction engineering, and energy conversion. 
"Under Professor Eric McFarland, I worked on characterizing a catalyst system that converts methane, natural gas, into hydrogen, which can be used as a fuel," Khechfe shared. "Before that, I worked for Professor Galen Stucky on materials for electrochemical energy storage."
The motivated student embraces the creativity that comes with solving chemical engineering problems. 
"We are able to do this a lot in our design course, where we get a very open-ended problem with no one correct solution," Khechfe shared. "Sitting at the drawing board and thinking of feasible ways to achieve some goal, then going out and designing something based off this idea is one of my favorite parts of this discipline."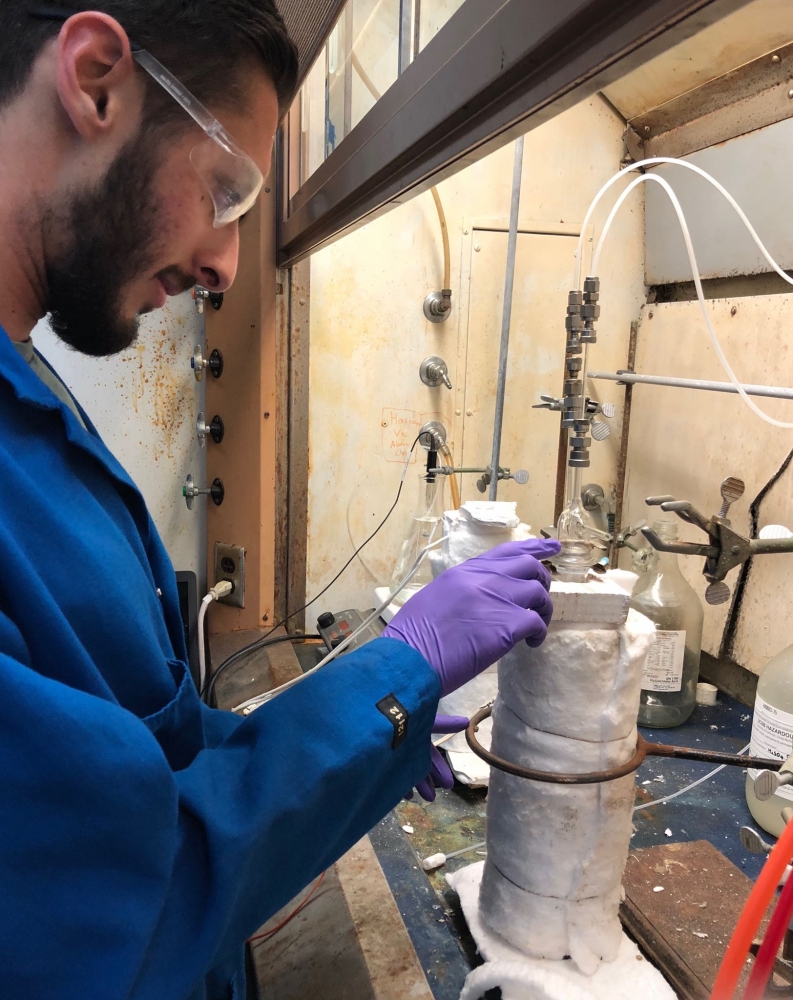 Khechfe recognizes Professor McFarland and his research group for mentorship over the last two years, and Dr. Ches Upham, who "taught me how to approach a plethora of problems in the lab.Professor McFarland has taught me many of the important questions to ask in research, and in life," Khechfe said. "Without their mentorship, I certainly would not be where I am today."
Professor Eric McFarland's research areas include energy, efficiency, and sustainability, with a focus on coupling fundamental processes at surfaces with novel material systems to enable economically and environmentally sustainable production of chemicals and power in real industrial processes. 
The Tirrell Award for Distinction in Undergraduate Research is presented at the College of Engineering's annual Senior Send-Off event and awarded annually by the College of Engineering to recognize graduating seniors who have shown excellence and promise as a researcher during their academic career. The award was established in 2009, in honor of former Engineering Dean, Professor Matthew Tirrell.
Khechfe recommends all incoming Chemical Engineering undergraduates find a good mentor, whether it's an older undergraduate, graduate or post-doc in a research group, professor, or employer. 
"Having good mentors to lean on for advice, technical or nontechnical, has helped me grow immensely as a student, and as a person," Khechfe said. ChE
– Melissa Walker is the Communications Coordinator for the Department of Chemical Engineering