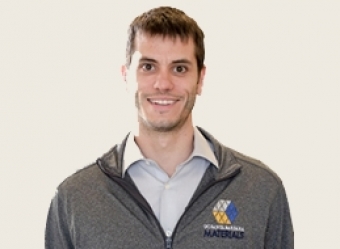 Christopher Bates, an assistant professor in the Materials Department with appointments in chemical engineering and chemistry & biochemistry, is one of sixteen junior faculty nationwide to receive a 2021 Camille Dreyfus Teacher-Scholar Award. Managed by the Camille and Henry Dreyfus Foundation, the program supports young faculty in the chemical sciences who have demonstrated leadership in both research and education. Bates will receive $100,000 in unrestricted research funding to support his work to study the self-assembly of bottlebrush copolymers. 
"These types of materials are relatively new, which means even simple questions like 'What are their properties?' remain poorly understood," said Bates, who also has courtesy appointments in the Department of Chemical Engineering and the Department of Chemistry & Biochemistry. "The goal of this project is to study these types of questions after adjusting the way that long molecules, known as polymers, are connected, which is similar to linking strands of cooked spaghetti in different ways."
Bates plans to use organic chemistry as a means of synthesizing the new materials, followed by exploiting the world-class characterization facilities at UCSB — particularly in the Materials Research Laboratory and the California NanoSystems Institute — to measure properties. His methods will create a feedback loop to allow researchers to go back and optimize the design of molecules to test their hypotheses about properties or to maximize performance for some specific application.
"Since these materials are relatively new, their full potential in real-world applications remains to be seen," explained Bates, whose previous awards include an Early CAREER Award from the National Science Foundation and a Young Investigator Award from the American Chemical Society's Polymeric Material: Science and Engineering Division (PMSE). "Our initial experiments suggest there are exciting opportunities in a range of technical applications, from 3D printing to sensors and actuators. Establishing structure-property relationships is the first step toward understanding how to exploit new materials in interesting and unique ways."
Dedication to teaching is a crucial attribute of Dreyfus award recipients, and it's a trait that Bates has demonstrated since joining UCSB's faculty in 2016. He teaches a laboratory-based polymer course that is open to undergraduates in engineering and the sciences. The class provides many of the students with their first hands-on experience in a lab, lowering a barrier to participation in research. In addition, he has mentored a diverse cohort of undergraduates in his research group and established an outreach program that during the pandemic has included video presentations to hook K-12 students on science.
"I'm excited to engage undergraduate students in this research," said Bates, who earned his PhD in chemistry from The University of Texas at Austin. "It's a great opportunity for them to acquire new skills and learn about different opportunities after graduating, whether that means attending graduate school or working in industry. We've already had a number of undergraduate students engaged in my group, and I look forward to continuing to support the next generation of scientists and engineers."
The Camille and Henry Dreyfus Foundation supports the advancement of chemistry, chemical engineering, and related sciences as a means of improving human relations and circumstances around the world.  Since its inception in 1970, the Teacher-Scholar program has awarded more than $45 million to support emerging young leaders in the chemical sciences who are within the first five years of their academic careers.