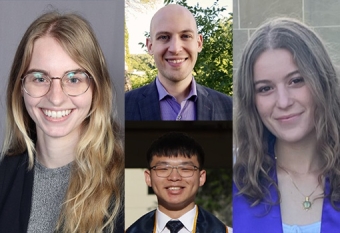 There will be plenty to celebrate when UC Santa Barbara's College of Engineering hosts its first in-person Commencement on Saturday, June 11 from 3-4 p.m. on Commencement Green. During the 2021-'22 academic year, 402 engineering bachelor's degrees have been awarded, including 49 in chemical engineering. 
Read about some of the end-of-the-year awards given to and awarded by graduating seniors from the Chemical Engineering Department.
Outstanding Seniors of Chemical Engineering Department
Every spring, the College of Engineering recognizes the graduating senior who has the highest cumulative grade point average (GPA) from each degree program. Ines Bilkić and Keith Lau, who are both graduating with high honors, have been named the 2022 Outstanding Seniors of the Chemical Engineering Department.  
"This award is meaningful to me because it shows that I was able to be successful among such a talented and intelligent group of students," said Bilkić, who has a 3.96 cumulative grade point average (GPA). "Every person I have met in my graduating class in chemical engineering is incredibly smart and capable, and I am honored to be graduating with them."
Bilkić was an active member of the Society of Women Engineers (SWE) at UCSB, serving as vice president for the past two years. Participating in SWE allowed her to develop leadership skills, form a network with other women in engineering, and attend professional networking events. She also spent two years as an undergraduate researcher, working under Enoch Yeung, an assistant professor of mechanical engineering, whom she credits with motivating her to explore interesting research problems and giving her the freedom and guidance to develop her research skills. Bilkić also expressed gratitude to the dedicated chemical engineering faculty for placing emphasis on teaching the theoretical background behind traditional chemical engineering concepts.  
"I found this style of learning worked well for me, because I like to understand all aspects of a problem," said Bilkić, who will start a job as a consultant engineer with FM Global after graduation. "Especially in our senior design class, we were challenged to explain why we made certain design decisions. I feel that this will make me more qualified to solve problems and make decisions in the future."
A first-generation college student, Lau says that he did not know much English when he moved to the United States six years ago. Now, he is days away from earning a bachelor's degree in chemical engineering with a 3.96 cumulative GPA. 
"I would never have imagined receiving such an exclusive award," said Lau, who graduated from Terra Nova High School in Pacifica, California. "This honor acknowledges the effort that I put into both academics and socializing, because I think that a majority of my growth is attributed to my friends. The award also further fuels my passion for learning."
Lau said that working in groups and reaching out to his peers helped him succeed during the pandemic. He has conducted undergraduate research for Arnab Mukherjee, an assistant professor of chemical engineering. The Mukherjee lab develops molecular reporters to look, noninvasively, at biochemical activities and cellular targets in living systems. 
 
"The experience opened a lot of job opportunities and taught me valuable skills that will be applicable to my future career," said Lau, who plans to work as a bioprocessing engineer for a few years before heading to graduate school. "UCSB engineering has equipped me with unique critical thinking skills and an ability to seek the optimal solution. The opportunity to take a variety of engineering technical electives also broadened my general knowledge and guided me to the career path that I wish to pursue."
Outstanding Faculty of the Year
For the third year in a row, seniors have selected Joe Chada to receive the Chemical Engineering Department's Outstanding Faculty Award. He joined UCSB's Chemical Engineering Department in fall 2018 as an assistant teaching professor.  
"It's always an honor to be recognized by the students," said Chada, whose primary focus is to design and construct experiments for undergraduates that reflect the latest in the chemical engineering field. "I am fortunate to have a career where I can work with a talented cohort of students, and it makes the job that much more special when you know that they appreciate the work you do."
Chada said that new technology that everyone has become accustomed to during the pandemic has enabled new student-centered practices. He has been able to record classroom lectures, hold Zoom sessions for students who can't attend class in person, and provide students with copies of all of his electronic notes. 
"I try to give my classes an experience that I would want to have as a student," he said. "I hope that some of the new technology and online teaching tools will continue to improve the students' learning experience."
The goal behind the experiments that Chada designs, which are conducted in the Robert G. Rinker Undergraduate Teaching Laboratory, are to reinforce fundamental chemical engineering principles, expose students to industrially relevant situations, provide hands-on lab training on modern equipment, and enhance opportunities for students to succeed during and after their time at UCSB. He says that it has been a pleasure to watch the Class of 2022 progress since their first year at UCSB.
"I've been at UCSB for exactly four years now, so this is the first cohort of students that I've seen complete the entire curriculum," said Chada, estimating that he has had most of the graduating seniors in about four of his classes in total. "It's really incredible to see how much they have grown, not only as engineers, but as people. Their college experience was anything but normal, and they've managed to overcome a tremendous number of challenges."
Chada added that earning an engineering degree by itself is quite an accomplishment, and this class completed it while experiencing dramatic shifts in both their personal and academic lives. 
"I'm certain that their resilience will help them solve the challenging problems that they will encounter when they start their professional careers," he said. 
Outstanding Teaching Assistant Award
Already the recipient of the university's 2021 Fiona and Michael Goodchild Graduate Mentoring Award, Chelsea Edwards has been recognized a second time for her impact on undergraduate students. Graduating seniors selected the fourth-year PhD student as the Chemical Engineering Department's 2022 Outstanding Teaching Assistant. 
"Teaching students has been one of the great joys of graduate school," said Edwards, who earned a bachelor's degree in chemical engineering from the Massachusetts Institute of Technology. "It's awesome that this translated to the students, who apparently could tell I genuinely cared about helping them to understand tough material over Zoom and found that I actually did help them well."
Advised by chemical engineering professor Matt Helgeson, Edwards works to understand how various processing parameters "affect phase separation of polyelectrolytes in aqueous media and the nonequilibrium structures that can result." While serving as a TA, Edwards said she made a concerted effort during the pandemic to show empathy and encourage students to keep asking her questions until they understood the material, and was happy to hold office hours in the later evening to better align with student work schedules. 
"I think these moves were especially important when students had minimal facetime with instructors, making it naturally challenging for them to ask questions casually or privately after class," she said. 
While she remains uncertain whether she will pursue a career in industry or academia after completing her PhD in chemical engineering, Edwards knows that she would like to continue teaching. As her final lesson to graduating seniors, she wants students to know that the resilience they have demonstrated over the past few years will pay off down the road. 
"Every one of you had an incredibly challenging college experience with unexpected difficulties and hiccups, and you're coming out the other side stronger for it," she said. "I think all of you will go very far in your careers if you show the same tenacity that you've exhibited already!"