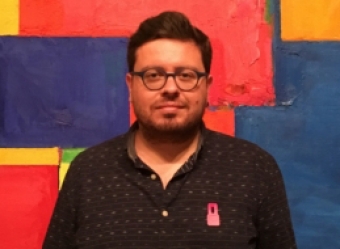 Department of Chemical Engineering Postdoctoral Researcher Harun F. Ozbakir, of the Mukherjee Lab, was selected to receive the Daryl and Marguerite Errett Discovery Award in Biomedical Research for 2019-20. 
The award honors Daryl and Marguerite Errett, by providing support to one outstanding post doc or research professional annually, to enable cutting-edge research in biomedicine and to launch promising projects that nurture the careers of gifted young investigators who will have an impact on pioneering developments that advance human health. The award is highly competitive, bestowing upon the recipient a significant measure of independence. 
Recognition from the honor supports Ozbakir's research to engineer the first genetically encodable MRI reporter for imaging calcium activity. 
"I am incredibly honored that I was selected to receive this prestigious Discovery Award, and I cannot thank the committee enough for recognizing and supporting this innovative research," Ozbakir said.
The total amount of the award is $70,500, and can be used to cover salary and benefits for himself or a researcher working on the project, research supplies, or access to equipment or instrumentation. 
Ozbakir's long-term goal is to start an independent career in a university setting that affords ample opportunities to teach, mentor, and conduct cutting-edge research.
"The recognition and funds by the Errett Fisher Foundation will have a significant impact to help me continue and enhance my journey towards an academic career," he said.
As part of Professor Arnab Mukherjee's Lab, Ozbakir's research focuses on calcium importance as a signaling molecule with critical roles in regulating several neurological functions including learning, memory, addiction, and neurodegeneration. 
"Researchers have developed various calcium-responsive fluorescent proteins – which can be detectable with optical techniques – for studying neural signaling in cells and organisms for the past few decades," Ozbakir explained. "Unfortunately, these fluorescent proteins are not optimal for studying calcium activity in deeper tissues and do not provide full brain coverage."
Magnetic resonance imaging (MRI) is an alternative to these techniques as it provides ways to safely and noninvasively image organisms with full brain coverage. However, the issue is that there are no available MRI-compatible proteins for studying calcium activity in live organisms. 
"Recently, we hypothesized that a calcium-sensing protein could be used for this purpose, and our preliminary experiments confirmed our hypothesis," Ozbakir said. "Building on these very exciting results, we are now working on engineering the first genetically encodable MRI reporter protein for imaging calcium activity."
He finds that one of the more challenging aspects in his research is the shift from the first phase of his research on bacterial organisms to his current work with mammalian organisms. 
"I am currently working with mammalian organisms, which are more complex than bacteria. This has its own challenges and difficulties, but it is very rewarding to learn something new about this organism and address the issues that may arise," Ozbakir explained. 
Additionally, he has been using MRI frequently and learning new aspects as part of his research. 
"Having no experience with MRI prior to my postdoctoral studies, it has been very interesting to learn how it works and how to get good images," he said. 
Ozbakir first met Professor Mukherjee during a Skype interview for his current position, and he is grateful to have found a supportive mentor who has provided him with ample opportunities for his research career.
"During that interview, Professor Mukherjee's enthusiasm while describing his lab's research interests made me very excited and was one of the reasons I wanted to work with him," Ozbakir said. "I am glad to have done so."
Ozbakir advises new incoming graduate postdoctoral students to, "work on a research topic you will enjoy since it is the envisioned end product of that project that will keep you motivated throughout your studies."
He also emphasizes that developing PhD level expertise can be both exciting and challenging. 
"Graduate school is not an easy journey as there are lots of ups and downs," Ozbakir added. "But not losing your hope and being patient will be two very critical and rewarding features in this path."
When he's not conducting his research Ozbakir pursues another passion, attending live music events. 
"I try to catch up with the new releases and go to some live shows and music festivals in Santa Barbara, and occasionally in Los Angeles." ChE
— Melissa Walker is the Communications Coordinator for the Department of Chemical Engineering.