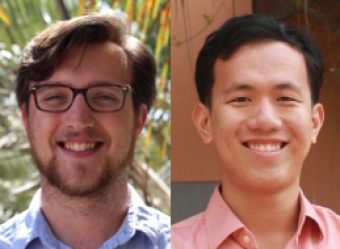 Department of Chemical Engineering graduate students, Koty McAllister, Rawlings Lab, and Chad Wangsanuwat, Dey Lab, have been awarded a CSP Technologies Teacher-Scholar Fellowship for 2019-20.
"As a part of the award, Koty and Chad will each co-teach an undergraduate course with a faculty mentor this year (to be determined)," said Scott Shell, Professor and Vice Chair of Graduate Affairs.
"Congratulations, Chad and Koty," said Professor Shell. "We look forward to your contributions to our department pedagogy, and wish you the highest success in your teaching roles."
Melissa Walker is the Communications Coordinator for the Department of Chemical Engineering.