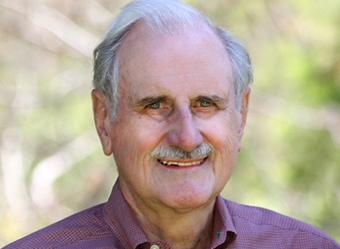 Professor Emeritus Duncan Mellichamp of the UC Santa Barbara Department of Chemical Engineering  has been awarded the 2018 Oliver Johnson Award for Distinguished Leadership in the Academic Senate. 
This distinguished award is presented biennially to honor an Academic Senate member or members in recognition of lifetime service to the Senate, outstanding and creative contributions to faculty governance, and exceptional abilities in working with different University constituents. 
The Oliver Johnson Award for Distinguished Leadership in the Academic Senate, is named in honor of Professor Oliver Johnson, who was a professor of philosophy and a long time active member in the senate.  
"I know firsthand how Oliver Johnson wished to encourage good leadership and good citizenship at the highest levels of the University," said Prof. Mellichamp. "Having known most of the award recipients in the intervening 20-plus years, and having witnessed their accomplishments, many also firsthand, I consider myself fortunate to be included as a member in such a select group."
Prof. Mellichamp was vice chair of the Academic Council in 1996, when the award was established. He and then Council Chair Arnie Leimann, met with Prof. Johnson personally to discuss his goals for the award and, on behalf of the University of California, to receive the donation that now endows the honor.
Named as one of two 2018 recipients, Prof. Mellichamp was acknowledged by the members of the University of California Academic Council and the Assembly of the Academic Senate, along with UC Davis Prof. of Law Emeritus Daniel L. Simmons.
"Academic Senate service is at the pinnacle of all university and public service, selfless work for the greater good of the academy," said 2017-18 Academic Senate Chair Shane White. "UC Academic Senate chair is a position of great responsibility, but Professor Mellichamp's contributions are especially wide and deep."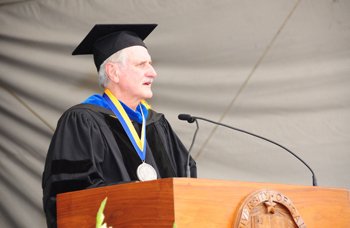 Prof. Mellichamp is recognized for his many years of distinguished service, and in particular his contributions as chair/vice chair of the systemwide Academic Senate (1995-97), and as chair of the Santa Barbara Division of the Senate (1990-92). Specifically, he's noted for his advocacy in the areas of budget, faculty compensation, actions on affirmative action and the turbulent repercussions that included a reassessment of shared governance in the area of admissions, and the inclusion of same sex domestic partners in UC employee benefits. 
"Duncan's leadership and service to the department, college, campus, and system, not to mention discipline, for the last 50 years are not only heartily valued but something we all aspire to," said Rachel Segalman, Edward Noble Kramer Professor and Department of Chemical Engineering Chair. 
In 1966, Prof. Mellichamp was one of six founding faculty members of the UC Santa Barbara Department of Chemical Engineering, where he started the process control program, after earning a BS from Georgia Tech and PhD from Purdue University, both in Chemical Engineering, and beginning his professional career with five-years as research engineer at DuPont Textile Fibers. He co-wrote the award-winning undergraduate textbook, "Process Dynamics and Control" with colleague Prof. Emeritus Dale Seborg, and is the author of more than 100 research publications on process modeling, large-scale systems analysis, and computer control. Prof. Mellichamp and his wife, Suzanne, have also endowed 16 faculty chairs at UC Santa Barbara, the last two via challenge donations to relatives and friends of fellow department co-founders Jack Myers and Robert Rinker.
"This well-deserved award demonstrates a lifetime of commitment to the University of California, and we in Chemical Engineering are honored to have Duncan as part of the team," Prof. Segalman shared. 
The award will be presented at the annual Senate Chair's Dinner on July 25, 2018, to be held at Jack London Square in Oakland, California. 
Past award recipients from UC Santa Barbara are W. Elliot Brownlee (History, 1998), and Gayle Binion (Political Science, 2008). ChE
– Melissa Walker is the Communications Coordinator for the Department of Chemical Engineering