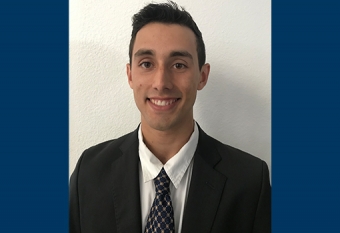 Chemical engineering student Austin Morales has been recognized for making outstanding contributions to the lives of others. He was among the twenty-two seniors and graduate students to receive the University Award of Distinction. The award recognizes  students who have contributed greatly to the quality of life by providing unselfish service to others within a particular area.
Morales, who will receive a bachelor's degree in chemical engineering, has been an active member of the Fifth Grade Chemistry Outreach Program for four years. As part of the program, he taught basic chemistry and experimental techniques to local fifth-grade students, who visited UCSB labs weekly to participate in hands-on physical science activities. The program is designed to develop the children's interest in science and motivate them to pursue a degree and career in engineering and the sciences. Once a year, he also taught chemistry to high school students from underprivileged areas during a College Link Outreach Program (CLOP) event hosted by Hermanos Unidos, a male-oriented support organization for Chicano/Latino male students.
"I think it is important to help others because the impact is like a ripple in a pond. This is especially true in education," said Morales, who graduated from Newbury Park High School. "When armed with knowledge and ethics, one has the ability to achieve limitless heights and can, in turn, become very impactful. By provoking curiosity and passing down wisdom, one will not only better their students, but also improve the impact those students will have on others and society. In short, helping others will indirectly help more people than one may realize."
Morales also served as an undergraduate researcher for chemical engineering professor Phillip Christopher. He assisted in the research group's work on developing new ways to understand and design catalytic processes, which are chemical reactions driven and expedited by a material known as a catalyst. In addition to focusing on his classes, research, and community outreach, Morales also worked to pay for his education.
"Coming into UCSB, I did not receive any financial aid. Throughout my four years, I had to work a minimum of two jobs, and sometimes three so I could pay for college," said Morales. "Chemical engineering is something I am very passionate about, and the thought of becoming a qualified chemical engineer helped push me through the financial struggle. Without a doubt, all of the time and effort were well worth it."
Morales will attend the University of Houston in fall to begin pursuing a PhD in chemical engineering and continue working on heterogeneous catalysis.
He was one of four College of Engineering students to receive the award this year. The others included materials PhD candidate Mayela Aldaz Cervantes, as well as seniors Jenna Bovaird and Boning Dong. All University Award recipients were honored during a virtual recognition ceremony on June 7.