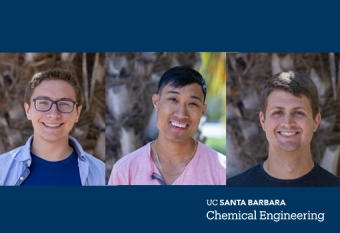 Wednesday, March 24, 2021
Three UC Santa Barbara chemical engineering graduate students, Daniel Arnold, Kevin Modica, and Phong Nguyen, have received prestigious graduate research fellowships from the National Science Foundation (NSF). Fellows in NSF's Graduate Research Fellowship Program (GRFP) receive three years of financial support, totaling $138,000, in the form of an annual $34,000 stipend and an annual cost-of-education allowance of $12,000 paid to the graduate degree-granting institution for tuition and fees. Fellows also receive opportunities for international research and professional development.
The GRFP is the nation's oldest fellowship program that recognizes and supports outstanding graduate students pursuing research-based graduate degrees in science, technology, engineering, and mathematics (STEM) disciplines. The program is intended to ensure the vitality and diversity of the nation's scientific and engineering workforce, inspiring future contributions to research, teaching, and scientific innovation. Students can apply to the program before beginning or early in their graduate studies. On average, about 13,000 students submit applications each year. 
Nguyen, who is co-advised by Rachel Segalman, chair of the Chemical Engineering Department, and Michael Chabinyc, chair of the Materials Department, said that the award was a testament to the help that he has received while pursuing innovative science and fostering meaningful interactions.
"This award is a momentous recognition of not only my merit and ambition, but more so that of everyone who has supported me throughout my academic and professional journey thus far," said Nguyen, who thanked his mentors at the University of Missouri, where he earned his bachelor's degree, summer research programs, the McNair Scholars program, and colleagues at UCSB. "I've received a lot of support at UCSB, working closely with my research advisors, receiving feedback from other members of my groups and the university's Graduate Division. In the future, I hope to help enable these opportunities for others."  
Nguyen works to develop a fundamental understanding of how conjugated polymers simultaneously conduct both electricity and ions, which are electronically charged molecules, in order to design novel materials and new technologies. By leveraging this unique feature of conjugated polymers, researchers in the field have been able to design an array of organic electronic devices, where the ion-sensing capability of these materials can be used to detect biological signals.
"My proposed project involves understanding how moisture, such as from rain or sweat, can affect the performances of these devices and may enable synthetic wearable skin that will provide personalized real-time health monitoring health capabilities," explained Nguyen.  
Two of the recipients, Modica and Arnold, are advised by Assistant Professor Sho Takatori, whose group studies the nonequilibrium statistical mechanics and fluid mechanics of soft materials.
"It is very encouraging to receive this vote of confidence from the broader scientific community early on in my research career," said Arnold. "This fellowship gives me an opportunity to pursue higher-risk avenues in my project that are outside the scope of my lab's grant funding. I am excited to see what the future holds."
Arnold's research focuses on thermodynamics and transport at soft material interfaces, exploring how large macromolecules like antibodies bind to surfaces such as cell membranes. Comprised of sugars and proteins, the surfaces of cell membranes are heterogenous inside and outside the plane of the membrane. Arnold's research seeks to determine how these heterogeneities affect macromolecule binding. 
"The potential impact of this project is quite significant and could provide valuable insight into how best to optimize delivery of monoclonal antibody drugs, which are currently used to treat COVID-19, as well as a number of cancers and autoimmune diseases," explained Arnold.
Modica says that the fellowship provides the academic and financial freedom to expand his research. He plans to use theory and simulation to study how self-propelled bacteria and other active materials move through the crowded environments found in mucus membranes or soil sediments. 
"These types of environments create a physical barrier that should block transmission of bacteria, but we still get sick," said Modica. "By understanding how this transport barrier is overcome, I will be able to guide future research on controlling bacteria diffusion with therapeutics and create new forms of 'smart' materials to prevent infection."
Modica, who earned his bachelor's degree from the University of Delaware, credited numerous mentors and advisors for helping him receive the award. He thanked his research advisor, Takatori, for teaching him to be scientifically rigorous, but still focused on the importance of communication. 
"Winning this award makes me feel lucky to be a part of a program that is so invested in the education and success of its graduate students," said Modica, who also thanked Robby Nadler, the academic, professional, and technical graduate writing development director at UCSB. "I've learned that as academics, we have an opportunity to teach the next generation of scientists and leaders. My career goal is to become a professor and subject-matter expert who can help improve the country through scientifically driven policy."
This year, 2,074 students nationwide were offered fellowships, and 1,829 students received honorable mention. The NSF issues honorable mention as an academic recognition to meritorious applicants who did not receive fellowship awards. Ten UCSB engineering graduate students were offered fellowships this year, five are from the Materials Department and three are from the Chemical Engineering Department. The Mechanical Engineering Department and Media Arts and Technology Program each had one student offered a fellowship. Three additional engineering graduate students received honorable mention this year, including Justin Marlowe, a chemical engineering PhD student, who is co-advised by professors Phil Christopher and Mahdi Abu-Omar. 
Nicholas Zakaria, who earned his bachelor's degree in chemical engineering from UCSB, was also offered a 2021 fellowship. Zakaria is now a graduate student at UC Berkeley.