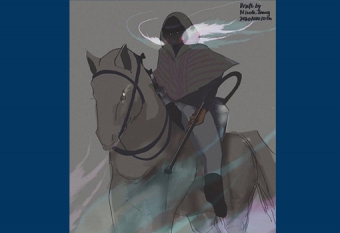 Tuesday, November 17, 2020
It is not very often that the words award-winning illustrator are used to describe a chemical engineering student. However, Nicole Tang, a senior chemical engineering major at UC Santa Barbara, is exactly that – an award-winning artist. Her illustration of UCSB's mascot, Olé the Gaucho, won first place in UCSB's Mascot Competition. Her artwork is representing UCSB in the UC-Wide Mascot Competition. 
"I was really surprised. I did not expect to win the competition," said Tang. "People may not think chemical engineers can stroke on canvas, but I've been interested in digital illustrations and anime since high school. While at UCSB, I've enjoyed drawing exciting things from my classes such as reaction mechanisms, experimental setting designs, condensation towers, and catalytic surfaces."
The UC mascot competition is in recognition of International Education Week (IEW), a national week of the U.S. Department of State and U.S. Department of Education that celebrates the benefits of international education and exchange worldwide. UC campuses invited members of its international community to showcase their artistic talents in the mascot competition. Tang spent two months at Osaka University last summer through UCSB's Education Abroad Program (EAP). Participants were asked to submit a two-dimensional illustration showing how Olé is living this year's IEW theme, "Engaged. Resilient. Global." Tang says her illustration is inspired by the notion that Gauchos are engaged in the global fight to prevent the spread of COVID-19.  
"The Gaucho is wearing a 3M respirator mask and is spraying disinfectants. I would call the illustration Olé the Gaucho: COVID-19 version," explained Tang. "It's my depiction of Gauchos around the world who I hope are staying safe, doing what they can to prevent the spread of COVID-19, and helping to develop a vaccine for the virus so that one day we can finally be back together on campus."
Voting in the UC competition takes place now through Thursday, November 19. Please visit tinyurl.com/ucwidemascot to cast your ballot. The winner will be announced on Friday, Nov. 20.
"I am honored to represent the Chemical Engineering Department, UCSB, and Gauchos around the world in the UC competition," she added.