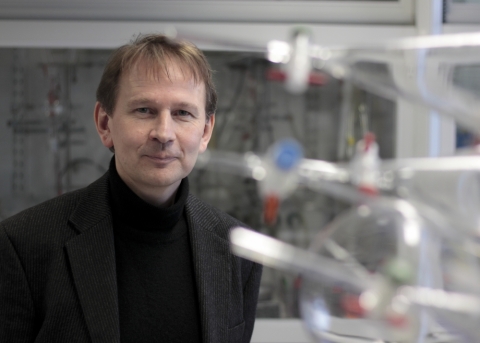 Date:
Wednesday, March 1, 2017 - 4:00pm
Speaker:
Matthias Beller - Director, Leibniz-Institute for Catalysis - University of Rostock
Abstract:
Despite numerous important methodological advancements in all areas of chemistry, still most organic synthesis as well as the industrial production of chemicals can be improved. Currently, more than 80% of all products of the chemical industry are made via catalysis. In this regard, the development of new and more efficient catalysts constitutes a key factor for achieving a sustainable production of all kinds of chemicals today and in the future. Here, several major challenges will be presented in the talk; e.g. the benign reduction of carboxylic acid derivatives. Furthermore, it will be shown that recently developed molecular-defined as well as nano-structured base metal catalysts enable us to perform catalytic hydrogenation and dehydrogenation processes in high yields and with unprecedented selectivity. Specific examples which demonstrate the potential of sustainable catalytic processes will also include examples from energy technology.
Bio:
Matthias Beller, studied chemistry at the University of Göttingen, Germany, where he completed his PhD in 1989 in the group of L.F. Tietze.  In 1990 he did postdoctoral work with K.B. Sharpless at MIT as the recipient of a Liebig scholarship. From 1991-1995 Dr. Beller worked at Hoechst AG as a research chemist and project leader.  In 1996 he became an Associate Professor for Inorganic Chemistry at the Technical University of Munich.  He then moved to Rostock as the Director of the Leibniz-Institute for Organic Catalysis in 1998, and received an appointment as a full Professor of Catalysis at the University of Rostock.  He was later appointed the Director of the newly founded Leibniz-Institute for Catalysis in 2006.
He has received several awards including the Otto-Roelen Medal and the Leibniz-Price of the DFG, the "Entrepreneur of the Year" of Rostock and the German Federal Cross of Merit.  He received the first European prize for Sustainable Chemistry, the Paul-Rylander Award of the Organic Reaction Catalysis Society of the USA, the Gay-Lussac-Alexander-von-Humboldt-Prize of the French Academy of Sciences and the Emil Fischer Medal of the German Chemical Society.
Most recently, he was awarded an honorary doctoral degree from the University of Antwerp, Belgium and received the Wöhler price for Sustainable Chemistry from the German Chemical Society as well as an ERC grant from the European Commission. Dr. Beller is also the Vice President of the Leibniz Society – one of the major science organizations in Germany and a member of the German National Academia of Science "Leopoldina" and three other Science Academies.
Sponsored by the Mellichamp Academic Initiative in Sustainability