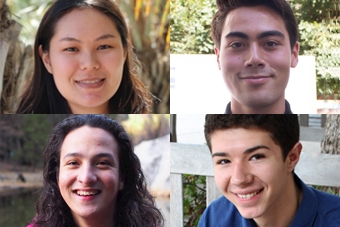 Congratulations to first year graduate student Kimberlee Keithley, Fredrickson Lab, ChE major Daniel Chu, and UCSB ChE graduate Francis Cunningham, BS 2017, and currently a 1st year PhD student at Berkeley, who were awarded NSF Graduate Research Fellowships this year. Additionally, ChE major Dorian Bruch was awarded a National Defense Science and Engineering (NDSEG) Fellowship.   
The purpose of the NSF Graduate Research Fellowship Program (GRFP) is to help ensure the vitality and diversity of the scientific and engineering workforce of the United States. The program recognizes and supports outstanding graduate students who are pursuing research-based master's and doctoral degrees in science, technology, engineering, and mathematics (STEM) or in STEM education. The GRFP provides three years of support for the graduate education of individuals who have demonstrated their potential for significant research achievements in STEM or STEM education. 
The National Defense Science and Engineering Graduate (NDSEG) Fellowship has awarded nearly 3,600 fellowships from over 58,000 applications to U.S. citizens and nationals who pursue a doctoral degree in one of fifteen supported disciplines at a U.S. institution of their choosing, since its inception in 1989. NDSEG Fellowships last for a period of up to three years, and covers tuition and fees. Fellows also receive a monthly stipend of $3,200, and up to $1,200 a year in medical insurance. The NDSEG Fellowship is sponsored by the Air Force Office of Scientific Research (AFOSR), the Army Research Office (ARO), and the Office of Naval Research (ONR) under the Office of the Assistant Secretary of Defense (OSD) for Research and Engineering.