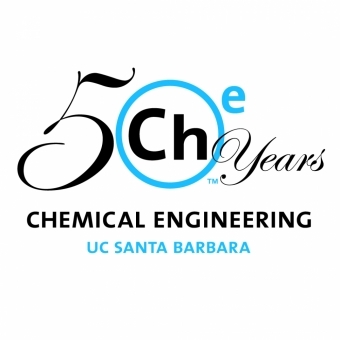 This past spring, over 150 alumni, emeriti, faculty, students, and staff joined together during three events on campus to celebrate the Department of Chemical Engineering for 50 years of success and innovation, on April 28, 2017. The celebration included events at Loma Pelona Center and The Club (formerly the Faculty Club), along with a pre-event at Goleta Beach. 
A large group gathered at Loma Pelona Center for a continental breakfast, and a series of presentations focused on the topic Birth and Evolution of Chemical Engineering, that went through the late afternoon. 
Welcome remarks were made to guests by the College of Engineering Dean Rod Alferness, and Chemical Engineering Department Chair Rachel Segalman.
"One of the things that we are most known for in the community is our spirit of collaboration," Segalman said. "We are really good at collaborating with each other, and with both national labs and industry." 
Keynote speaker Duncan Mellichamp, Professor Emeritus of the Department of Chemical Engineering and founding member of the Mellichamp Emerging Leaders Lectures, spoke about the early years of the department in his address, A New Department.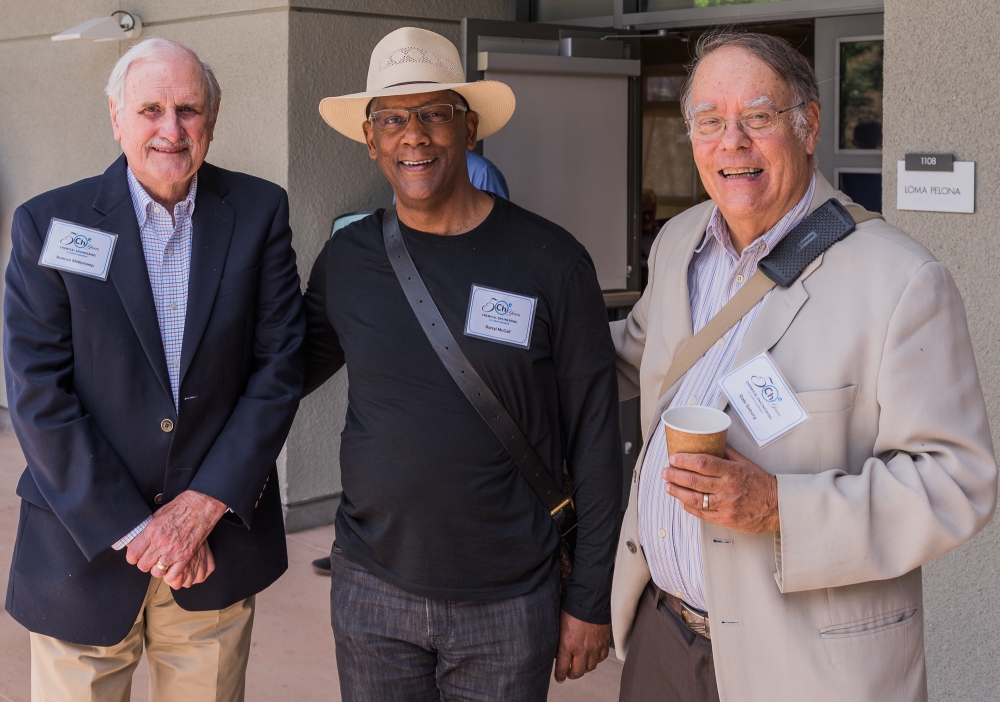 During his presentation, Mellichamp, one of the six founding members of the department, established in 1956, explained the growth of emerging department from different building locations, to hiring new faculty, and expanding the curriculum. 
Additionally, fellow Emerti and founding members Dale Seborg, Orville Sandall, and Gene Lucas, shared anecdotes and memories about The Early Years. 
Emeritus Sanjoy Banerjee started a discussion of Rising through the Ranks, before a quick break for coffee. Fellow Emeritus and Research Professor Gary Leal continued on the topic once the crowd was perky, and ready for more. 
"The philosophy of building a top department was primarily the graduate program and research," Leal said. "Wiith the best people across the breadth of the field, and hiring the best research groups in a few areas under the direction of the 'wise, old faculty' of the department, and the 'best and brightest young faculty,' who would define the future of the field by their own interests."
Segalman spoke of soaring to new heights with Today and Future Visions, beginning a discussion about the growth of the department to a current number two National Research Council ranking, and a vision for the future that was also shared by former department chairs Leal and Banerjee. 
Over the past 50 years the Chemical Engineering Department has grown in both size and prestige, with a graduate program frequently ranked within the top ten chemical engineering graduate programs in the country.
The Department of Chemical Engineering's research activities at UC Santa Barbara are on the cutting-edge in the areas of materials and interfaces; bioengineering; energy, efficiency, and sustainability; and modeling, theory and simulation.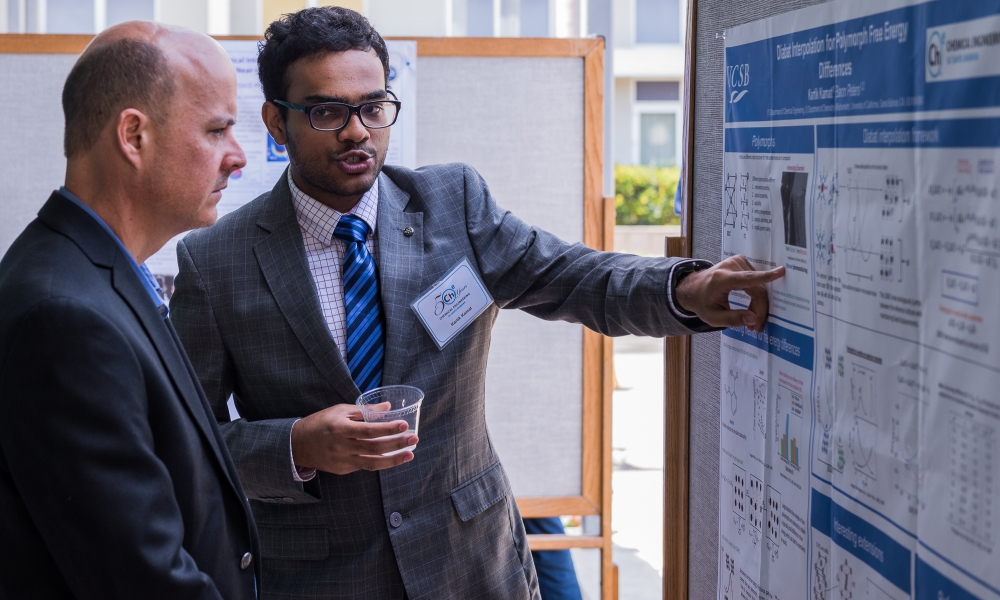 Following Segalman's inspiring words was a delicious lunch and an opportunity to view highlights of the great work of current graduate students during a Poster Session. 
Recently honored AIChE 35 Under 35 award winner, ChE alumnus Christina Borgese, 2005, shared an Alumni Perspective on her experiences on campus and in the business world, ranging from Clorox, to BioFuelBox and her current company, PreProcess Inc. 
"It's an honor to be here today, and be representing the department," said Borgese, who spoke of her time on campus, from her dorm room with an ocean view, to sailing classes and midnight swims at Goleta Beach, and intramural water polo with an engineering team.
She also spoke of her company's process at PreProcess with fellow alumnus Marc Privetera, 1986. 
"We take ideas from graduate student projects all the way through large scale commercially backed venture programs," she shared. "And we take the idea and we drive it all the way to commercialization, through a number of different aspects."
Tom Jaramillo, PhD, 2004, now Associate Professor of Chemical Engineering and of Photon Science at Stanford University, spoke of the facilities and an evaporator in the clean room, E-Beam III, "that was like my best friend for a couple of all-nighters.One of the cool things about Santa Barbara, is this place has some of the best facilities of any university, of any institution, that I've ever been to, period."
Matt Shaner, BA, 2010, from NearZero, also shared some rememberances and insight to current students and graduates. 
Next, after another quick jolt of coffee, were research talks from current graduate students including Emily Davidson of the Segalman Research Group, who came with the current Chair from UC Berkeley, and echoed what others said during the day about, "Santa Barbara's amazing facilities, and wonderfully collaborative and welcoming department, and incredible staff."  
Davidson also thanked Segalman for, "all of her mentorship, and for bringing me with her down here." 
Following Davidson was Niels Zussblatt, who recently completed his dissertation, Syntheses, Characterization, and Properties of Functionalized Mesoporous Carbons for Electrochemical Device Application, on August 25.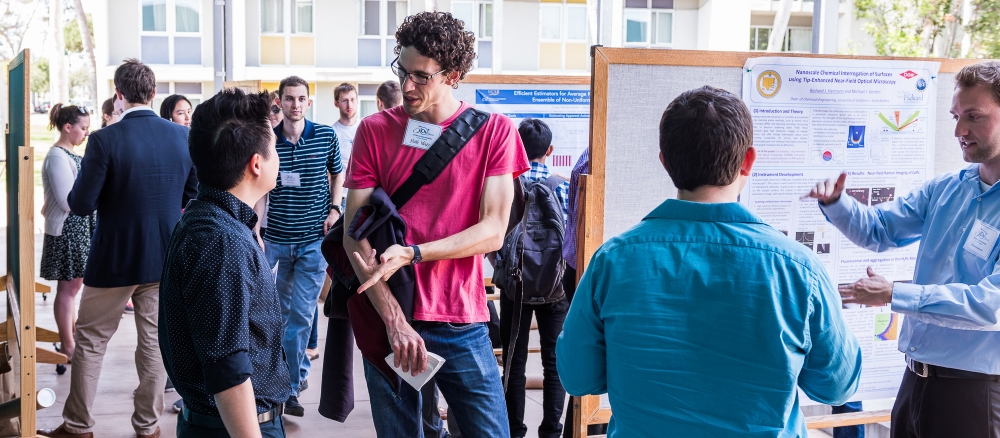 Following the graduate presentations were final remarks from Segalman, and the announcement of further opportunities for networking at the COE Alumni Reception, held in the Engineering Science Building Courtyard, and a Time Capsule Ceremony in the Engineering II Courtyard. 
Segalman also shared some current campaign goals and highlighted one major priority to finish the endowment for the Rinker Lab, and the department's need for a sustainable model for the undergraduate labs that had been pointed out by a group of alumni, the Land Shark committee. 
"Our undergraduate lab needs to not only be a great lab, it needs to be continuously adding new experiments, in order to be modern and a continuously fresh experience for the students of every generation."
The gatherings provided an opportunity for guests to reconnect with fellow engineers and class members, to reminisce about early experiences and achievements, and were an acknowledgement of collective contributions to the rich history of the department.
A special gala dinner and celebration finale put the bow on a special day with celebratory cocktails, and a special department slide show and announcements. 
The UC Santa Barbara Department of Chemical Engineering was founded in 1966 by Professor Emeritus Robert Rinker, who was hired to form the department, in 1965. Rinker recruited Jack Myers, the first chair of the Chemical Engineering Department, and together they recruited additional faculty members, including Duncan Mellichamp and Orville Sandall, to help shape and grow the department. The first Bachelor of Science degree was awarded in 1968, the first MS degree in 1969, and the first PhD in 1971. 
For more information on our alumni communities and how you can keep in touch for future events, visit our alumni page! ChE

Melissa Walker is the Communications & Seminar Coordinator/Faculty Assistant for the Department of Chemical Engineering.