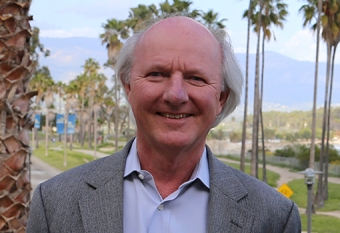 UC Santa Barbara chemical engineering professor Michael Doherty is among 261 new fellows and international members elected to the American Academy of Arts and Sciences (AAAS). The new members join a distinguished group of individuals previously elected, including Benjamin Franklin, Ralph Waldo Emerson, Charles Darwin, Albert Einstein, Margaret Mead, Martin Luther King, Jr., and Condoleezza Rice. 
"As I review the list of current and former members of the Academy, I am inspired to be a better scholar, a better teacher, and a better contributor to society," said Doherty, the Duncan and Suzanne Mellichamp Chair in Process Systems Engineering.
Doherty's research focuses on process systems engineering, with particular interest in conceptual design of chemical process systems, crystal engineering for product and process design, and separation with chemical reaction. He is a member of the National Academy of Engineering and a recipient of the Alpha Chi Sigma Award for Chemical Engineering Research from the American Institute of Chemical Engineers (AIChE). Named one of AIChE's "One Hundred Chemical Engineers of the Modern Era," Doherty holds six patents, published more than 200 technical papers and given more than 250 invited lectures. 
UCSB professors Joan-Emma Shea and Shelly Lundberg were also elected AAAS Fellows this year. Their selections bring to forty-five the number of UCSB faculty members who have been named fellows of the academy. 
"On behalf of our UC Santa Barbara community, I am honored and delighted to congratulate Professor Michael Doherty, Shelly Lundberg, and Joan-Emma Shea on their election to the American Academy of Arts and Sciences, one of the oldest learned societies in the country," said Chancellor Henry T. Yang. "This prestigious achievement is a deeply meaningful affirmation from their peers of their inspirational leadership in research, teaching, and service to our society."
Founded in 1780, the AAAS honors excellence and convenes leaders to examine new ideas, address issues of importance to the nation and the world, and advance the public good. This year's election of 261 new members continues a tradition of recognizing accomplishments and leadership in academia, the arts, industry, public policy and research. 
"We are celebrating a depth of achievements in a breadth of areas," said David Oxtoby, president of the American Academy. "These individuals excel in ways that excite us and inspire us at a time when recognizing excellence, commending expertise, and working toward the common good is absolutely essential to realizing a better future."