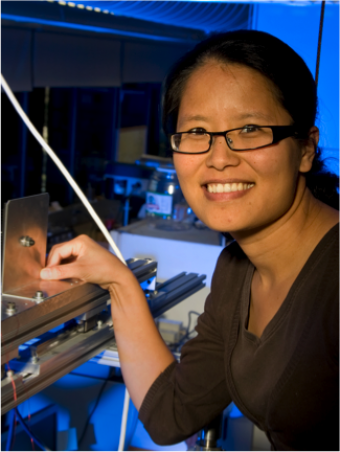 Professor Songi Han has been named the recipient of the 2019 BPS Innovation Award by the Biophysical Society.  
The BPS Innovation Award recognizes scientists that advance our fundamental understanding of biological systems through the development of novel theory, models, concepts, techniques, or applications. 
Prof. Han was acknowledged for her invention of solid-state and time-domain-capable dynamic nuclear polarization (DNP) instrumentation, as well as Overhauser dynamic nuclear polarization to characterize surface water in biological and soft materials.
"I feel very pleased, especially because the technique we have developed was based on an idea that we ourselves did not know whether it will work, and how far its potential impact on biophysical research could be," said Professor Han.
Her innovations enable sophisticated new probes of biological hydration, and allow surface water difference landscapes to be completely mapped around globular proteins. Additionally, her methods enable deeper understanding of binding thermodynamics, and imaging across the blood-brain barrier using hyperpolarized water. 
Concurrently to receiving BPS award, Professor Han recently attended the Gordon Research Conference on Water – one of the oldest GRCs for 50 years. 
"We presented our development of Overhauser DNP to measure the water dynamics coupled to the surface of protein, and received strong approval by the community that is known to be very critical and skeptical towards new techniques," Professor Han shared. "However, the real work is beginning now."
The BPS accolade includes a $2,000 honorarium, and will be presented at the Awards Committee Annual Meeting in Baltimore, Maryland, with Professor Han planning to attend the award presentation occurring during the Awards Symposium on March 5, 2019, following the President's Dinner and National Lecture on March 4, 2019. 
The Biophysical Society was founded in 1958 to lead the development and dissemination of knowledge in biophysics. It does so through its many programs, including its meetings, publications, and committee outreach activities. The Society's members, now over 9,000, work in academia, industry, and in government agencies throughout the world. ChE
– Melissa Walker is the Communications Coordinator for the Department of Chemical Engineering