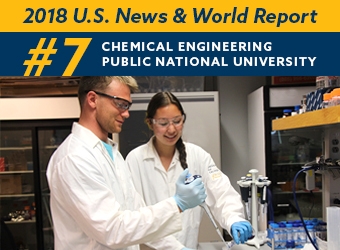 The UC Santa Barbara Department of Chemical Engineering placed No. 7 among public universities and No. 11 overall, in the 2018 U.S. News & World Report annual rankings of the top engineering graduate programs in the nation.  
"We are thrilled to see continued recognition of our graduate program as one of the top in the country," said Professor M. Scott Shell, Department Vice Chair of Graduate Affairs. "This no doubt reflects our unique training of PhD students, which embeds them in a highly collaborative, multidisciplinary, and dynamic research environment where nearly every faculty member is a leader in their field."
The UCSB College of Engineering graduate program was ranked No. 12 among public universities, and CoE earned the No. 24 position among both public and private institutions. CoE's materials program was also ranked No. 2 among public universities. 
The rankings in the Best Colleges 2018 guidebook are based on data U.S. News & World Report collects directly from colleges and universities, as well as from other sources. The magazine evaluates and analyzes data on various indicators of academic quality and assigns a weight to each factor based on its relative importance. It then tabulates composite scores and ranks institutions against others in the same peer group. The "peer assessment score," reflects assessments by presidents, provosts, and top admissions officials at peer institutions. A weighted average of ten indicators were calculated among some 214 engineering schools surveyed for the U.S. News & World Report rankings. ChE
– Melissa Walker is the Communications Coordinator for the Department of Chemical Engineering